Jelajah Malaysia Stage 4 Batu Pahat - Muar.
Flag off for this stage was scheduled at 10am. The tour entourage consisted of me and Ali (takde orang lain dah ke? Kasi le awek cun ke). We arrived at Padang JKR at about 9.15am, and the camera trigger finger ensued.



Riders lining for signature control. Riders who pulled off the race were marked with a black square on the board.



Tour Chairman, Datuk Asta-the Man Abdul Aziz. He's related to Ali. So dapat VIP pass. Hahaha. Korang ingat Ali tu kawan baik aku ke? Karot je sebenarnya. Hahahaha. Aku dah plan benda ni 5 bulan dah.



Tips for people who are going for Ironman. Down at least 5 bananas before the race. Pros do it.



The newest local celebrity. Anuar Manan is a crowd pleaser, shown here shaking hands and high-fiving his fans. One uncle shouted before the start, "SAYA PEMINAT NOMBOR 1 ANUAR MANAN!!!" and later a blardee loud "MALAYSIA BOLEH!!!"



This is him.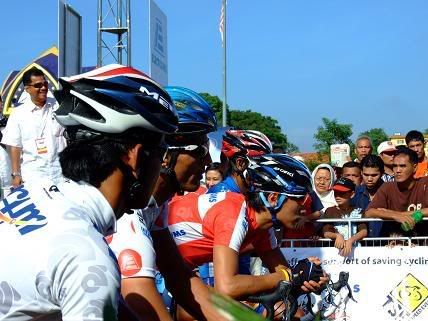 The previous stage category leaders. From foreground to back: Amir Mustaffa, Hossein Askari, Li Fuyu, Anuar Manan.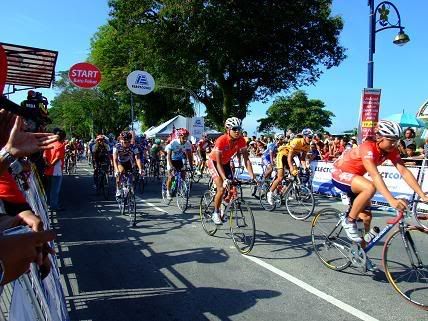 At EXACTLY 10am, the riders were released.



Like a true cycling enthusiast, Datuk Astaman hurried on his motorcycle (yes, the vehicle with 2 wheels) and jumped on behind the peloton. Ni baru la dikatakan minat. Kalau orang lain, mesti pergi minum teh O secawan, makan karipap sebijik, lepas tu borak-borak, then masuk keta Mercedes, air-con full blast.



After flag off, we got into the van and went straight to Yong Peng through a bypassing route, hoping to rendezvous with the peloton. But we we're too slow and they've blocked the road way ahead of our anticipation. So we had to walk quite a distance to get to the race route, but still we were few minutes too late. The pictures of the rendezvous were taken few hundred meters from the route.



Breakaway group. Anuar Manan seen here, second rider from right.



Peloton was just slightly under a minute from the break.

Off to Muar and we arrived early. Trigger finger went over-time.

I'm not really into photography. The camera was my brother's. But the reason I bring it along is so that people would take me seriously without me even trying. Point? This uncle here.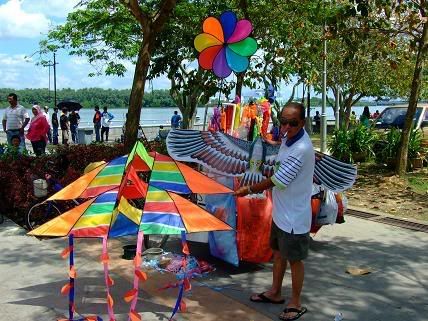 For no apparent reason, he came up to me and said "Mau ambik gambar ka? mau tengok helang punya layang-layang? Haaa. Mari mari tengok". I wasn't even going to buy it. "Takpa la. You mau ambik gambar bukan?"



Maybe he's just friendly. Or maybe he's trying to show off his Kanye West shades.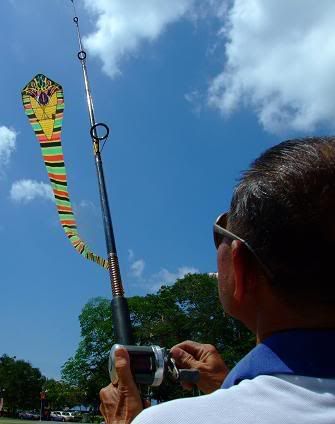 He also showed off his 'snake'. Hahaha. Don't play play. 30-foot long snake wei.

On to the race proper, the Organizer did a very good job. Everyone was updated with the whereabouts of the riders. The MC especially, did a superb job. Compared to Tour de Langkawi, where the MC's main concern was to keep the spectators off the road, the MC for Jelajah Malaysia actually hyped the atmosphere up. The relay of information is commendable.



"Breakaway group mendahului peleton sejauh 11 minit!! Dan pelumba team Kuala Lumpur, Suhardi Hassan berada di dalam breakaway group ini. Jika ini diteruskan hingga akhir perlumbaan, Jersi Putih akan bertukar tangan hari ini."



Even for thouse who don't understand how the point system works will at least feel fired up.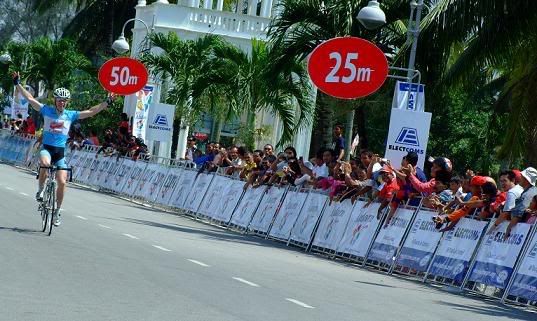 Stage winner, Frederick Johansson.



Last rider of the breakaway group, who's wearing an obvious battle scar. I believe this is Masakazu Ito from team Japan.

And along came the bunch group.



Stage winners: 1st place, Frederick Johansson (center), 2nd place, Kohei Uchima (right), 3rd place, Tonton Susanto (left).



Stage 4 jersey holders (L-R): Suhardi Hassan, Hossein Askari, Tonton Susanto, Anuar Manan.

Post-race window shopping: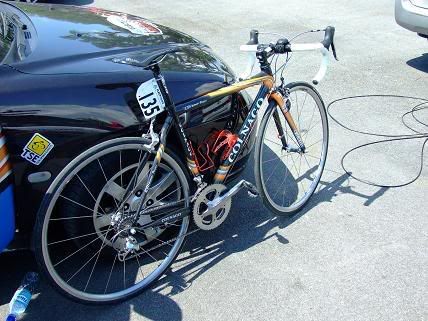 Team Malaysia's bike.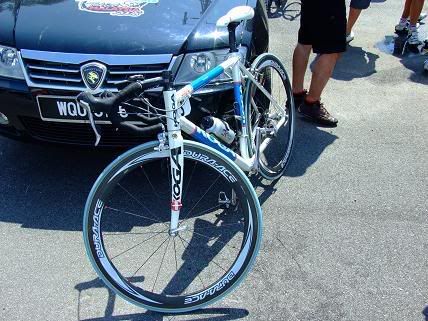 Team Skil Shimano's bike. If only I had a bigger bag, aku curi dah benda ni.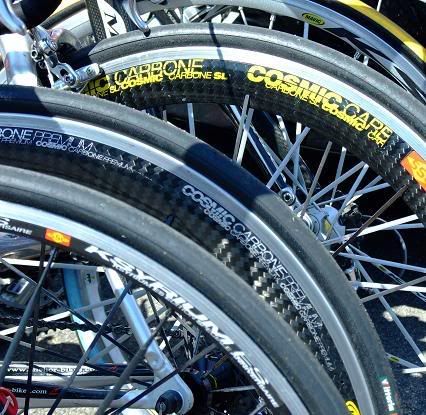 Wheels of fortune.



When this photo was taken, at least 8 bystanders were eyeing on them bottles. Immediately a team member brought out a bag and packed everything up. Damn, melepas.

After the race, we had a big lunch with some of the crew members. Dah kata VIP. Haha.




And last but not least, may I present you the Electcom Babes.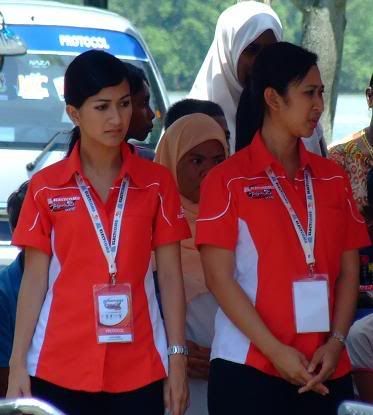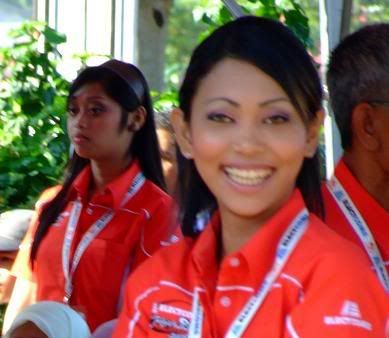 Jelajah Malaysia is definitely here to stay and it's only going to get better. Judging from its low budget compared to TdL (I don't know exactly, but TdL had butt load of sponsors, sanctioned by the government AND was worthy to be discussed in the Parliament. Jelajah Malaysia only had one main sponsor), Jelajah Malaysia is a pocket rocket. TdL should learn something from it.



Datuk Astaman, you truly are the man!

Labels: Cycling