Of Burgers and Rock
The one pound whopper hype came to an anti-climax when I learnt I have a viva exam on Monday. There goes my trip back home to KL. The nearest Burger King from here is in Johor Baharu. But it's not the food really, it's the company. Kerja gila hanya sesuai dibuat oleh sekumpulan orang gila. Tapi nak buat macam mana, I have to stay back this weekend and revise.
Hadoih la. I can almost taste the juicy meat, the melted bovine fat squirting in my mouth as I sink my teeth into the 4 layers of beef patty. And as the lower jaw sinks in deeper, reaching the crunchy lettuce and firm tomato slices, it gives this manja-manja sense of resistance. All these giving a combo sound effect of 'sqquuiiisshhh-crrrnnccchhhh-chomp-chomp-chomp'. Adduuuiii!!!! Mak datuk bestnya!!!
Not today.


* * * * *
I've been going further back with my music time machine, all the way back to the 70's when metal first started. And I have to agree, all the best metal riffs have been written by Black Sabbath.
Here's a taste of what I've been listening to: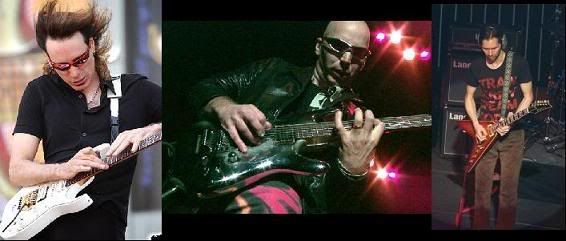 Steve Vai, Joe Satriani and Paul Gilbert. I've been listening to these guys for almost 5 years now. Top-notch guitar players!

Iron Maiden, Black Sabbath, Heaven and Hell (Black Sabbath minus Osbourne plus Dio). Ni baru lagi dengar.

Image sources:
Here, here, here, here, here and here.