Jom Jelajah Malaysia
Tomorrow, or rather in 8 hours, I'll be watching the stage 4 of Jelajah Malaysia in Batu Pahat. Then, a 40-minute drive to Yong Peng to catch the peloton passing the town. Another hour of driving to Muar to end the adventure at the finishing line, and hopefully bagging some freebies in the process. And if I'm lucky enough, scoring an all-access pass for the event, courtesy of the Chairman himself. Finally the policemen can ease off. No more "Bang, berdiri belakang sikit ye."

Tomorrow's driving route in red: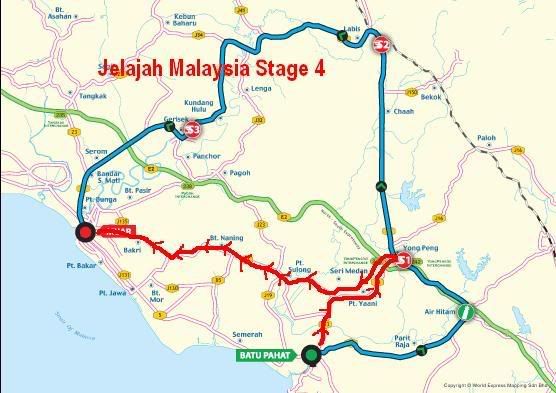 Sapa mau join? Jumpa di Muar. Kita lunch asam pedas ikan pari lepas tengok orang ride. Yee-hahahahaw.