Lambat Punya Update, Busy Punya Pasal
[Updated: 25th June]
A lot has happened after that taste of pedaling in PD (do not get confused witht he PD tri clinic, happened recently on the 17th. I chickened out and didn't turn up).



Tuesday, June 5th.



After a day break from PD, tried to pedal up the route I used to go to long time ago, the trunk road to Labu. I love this route. The route goes along Jalan Rasah - Taman Bukit Chedang - Columbia Asia Hospital - Simpang Labu - Pedal all the way secukup rasa, then U-turn - Simpang Labu - Seremban Town - Jalan Rasah. Quite a mouthful to say isn't it? Let's just call it Labu Route from now on.

The best part is the 'pedal all the way secukup rasa', so I can customize the cycling session to the amount of time I have. Traffic is very light after Simpang Labu, but doesn't really matter actually. Seremban drivers are very courteous, and they respect cyclist. They actually give way!!! :-O

Distance was about 25km. Then again, it's an estimate. My cyclocomp went bonk.



Wednesday, June 6th.



Labu Route, with an extra 5km than the day before.



Thursday, June 7th.



Labu Route, same distance as the first day.



Friday, June 8th

: Complete rest.



Saturday, June 9th.



This time, it's a re-visit to Sungai Tekala. My cycling partner this time is Ali, my best buddy. He cycled a mountain bike with slick wheels. Not for long though. He'll be making a debut soon on a road bike! Cayalah beb!

The route taken was exactly like the first time I went there with Ikhwan Hadi. I have to say, I'm still unfit, but fitter than previously. I use less of the granny gear. Most climbs are bearable, except that one climb at Simpang Tiga. Pundek betoi. Steep gila nak mampos. Dah la aku berat gila. I was panting so hard, I think all the beruk nearby got turned on. Nasib baik I remained seated. Should I lift my butt up, sure kena suntut dengan beruk. Haha. Sial.

Midway, we got taken over by Ikhwan, Azmar and Laif. They came from Genting Peres, and plan to take the shortcut to Batu 14, cutting across that dreaded steep hill. I went up the hill once long time ago, on foot. Memang betul steep. Ikhwan calls it Bukit Celaka. Mau tau kalu, sendiri kena kasi try lah.

Time for some pictures. These are all post-ride pictures. Sori lah. Cycling pants don't come with pockets.
Ini adalah Mr. Ali posing with my trusty mini van. To Azwar aka PrimateChief: See, I don't drive a Savvy la.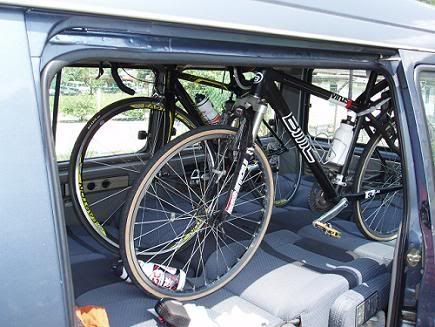 Mari mari mari! Car boot sale! Sekilo RM4.50
Toyota Unser drivers eat your hearts out. Who's more spacious? I reckon this beaten-up Ford Spectron can easily fit 5 bikes, unassembled.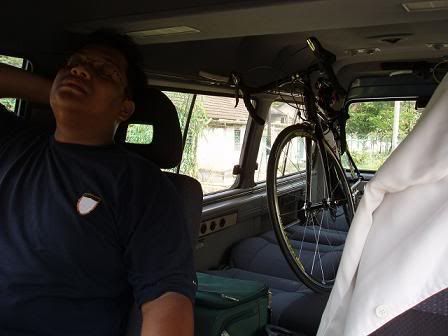 Tido selepas kayuh memang best.
Sunday, June 10th

: Attended cousin's wedding. Rest.



Monday, June 11th

: Tido, because I didn't sleep the whole night before.



Tuesday, June 12th

: Hujan. Rest.



Wednesday, June 13th

: Malas. You can see where this is going.



Thursday, June 14th

: Right thumb hurts. Rest.



Friday, June 15th

: You guessed it, rest, yet again.



Saturday, June 16th

.

Haaaa. On this day, I can't kayuh.

My sister got engaged

. Yes, my ADIK perempuan. Haha. I thought it was going to be kecil-kecilan. But when I got home, hambek ngko, siap berkhemah-khemah lagi. Families from segala pelosok negara showed up.

That day I sort of got tired being bombarded by my uncles and aunties.

"When is your turn?" [repeat 21,486 times]

Hah, takpe korang. I'll ask you guys the same question when we meet in funerals.

But one aunty managed to save the day. My Mak Cik silenced the rest of my family when she said "Azman? Don't be so expectant of him lah. He's too choosy. Plus he said wants to buy house, 3 big cars, and a few expensive bicycles first." Cayalah Mak Cik. You're my favourite aunty. I think she's the only one in the family who understands that I'm married to my bike.

Ok, ok. Enough family talk. The way my cycling is going, I don't think it'll benefit much. I always find a way to cheat myself. I think I should make it less frequent, 2-3 times a week, but longer rides. That way I have no way out but to do it. Let's try it this week and see if it works.

Oh, to those who are wondering what happened to my running, I've decided to give my running shoes a rest. I love my knees. I don't want to bust them from overuse. So it's gonna be cycling until I shed some kilos off. Then maybe I can get back to running, hopefully faster and pain-free.


Labels: Cycling