Mi Novia
In Spanish, it means 'my girlfriend'.

And it sure is from the high-maintenance breed, but it is worth every penny.

... if only you'd allow me to ride smoothly with clipless pedals. Sayang, don't be so harsh on me.




Mi Novia

Why "My Girlfriend"? Basically it gives me ample opportunity to own more bikes in the future. I'm thinking in the line of naming my future bikes (Fuuhhh!!! Optimistic!!) My Scandal, My Wife, My Mistress, My Second Wife (Haha. Okay, kidding. I'm big on monogamy, although I don't disagree on polygamy).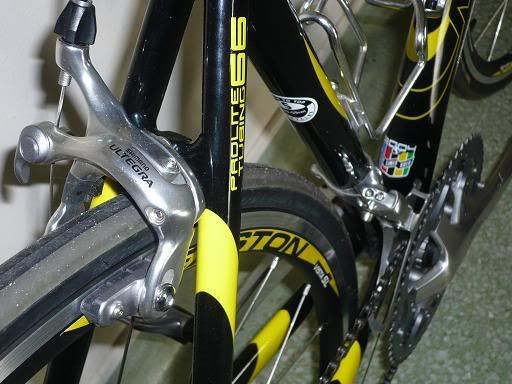 Granny gear!! Takpelah. I'm not that strong anyway.

When my friend, cyclist Ikhwan Hadi aka Loterij/Solidusss Way2Ride saw the bike for the first time, he slapped his forehead in frustration. "Asal beli yang ni??!! Granny gears are for grannies!" Weh, mane le aku tau. Takpe takpe. You know as well as I do, I suck at climbing. Benda ni le penyelamat aku, my saving grace against those palm-sweating, lung-popping, crotch-numbing, nipple-hardening, terkincit-inducing climbs.



Macam mountain bike punya.



Sweet.

My favourite part of the bike. Why? Because it's carbon. Yes, I'm superficial.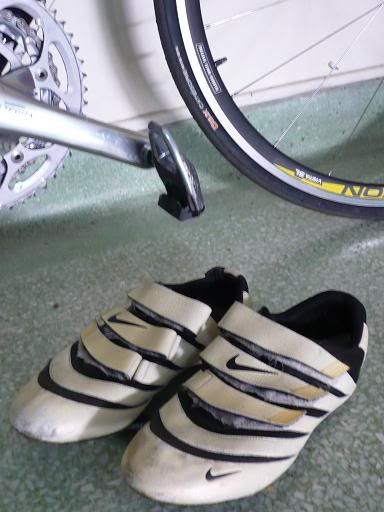 Second-hand 105 pedals and Nike shoes. Comes really cheap. Sesuai untuk poser macam aku. Haha. The two things that are quickly *ahem* *already* *ahem* becoming the bane of my existance!

Aini wants me to practice pedaling while leaning on a wall. And guess what, I still fall even when doing so! Memang aku takde bakat la benda ni.



Mi Novia at the Uni.

I bring the bike to uni once in a while. It's nice to get some ooh-aahs from friends. Did I tell you I'm superficial?

I'll be on mid-semester break from 26th May until 3rd June. Apa lagi!!!!! Jom kayuh!!

Labels: Cycling