Terry Fox Run 2008 - Ran In Sarong
We came. We saw. We ran - in sarong.

I am kinda busy with things in the uni so this will be a simple photo-caption post.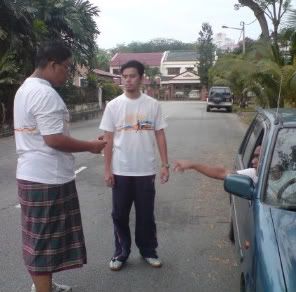 Pre-event discussion



2 orang yang tak jadi pakai kain. Hafiz and Fairuz.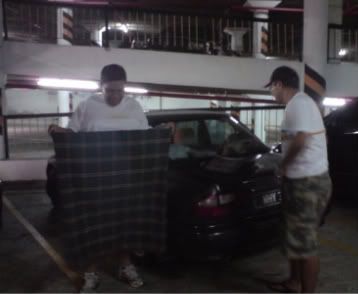 Het! Apa ada di dalam?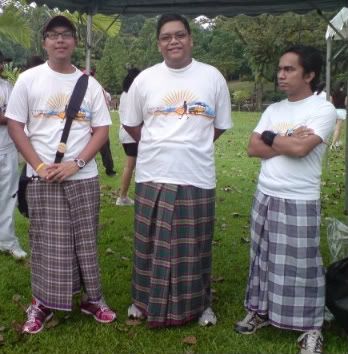 Bujang Lapok. L-R: Sudin, Ramlee, Ajis.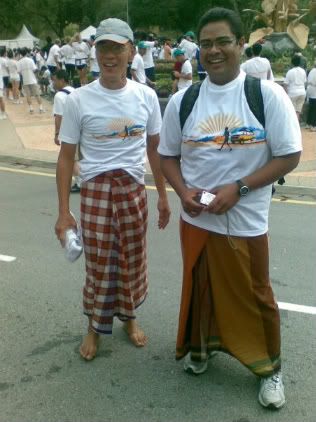 The President of Sarong Club, Mr Ngae and Upiq.



With the rest of the gang. L-R: Yours truly, Upiq, Ali, Mac, Ayman and Arif. Hiding behind Mac is Adeline.



The crowd.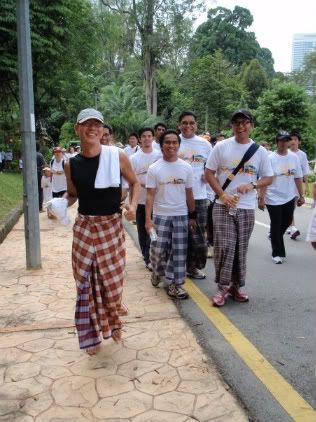 Mr. Ngae floating on cloud nine.



Walking with sarong in a large crowd. Somehow it feels like Friday Prayers.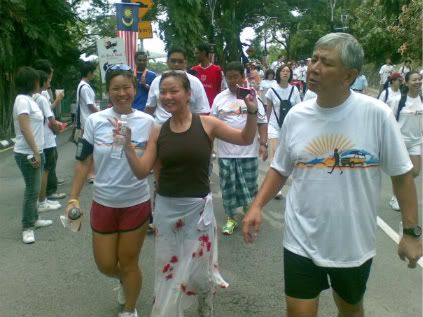 May Senn also wore sarong!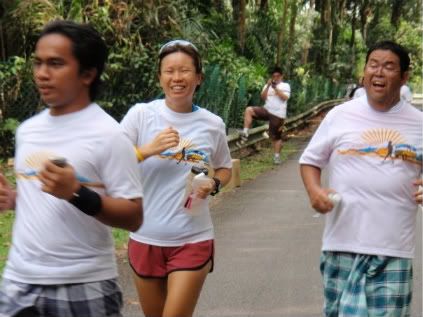 We followed the extended route. Just trying to prove a point that 'sarong can run'.



... or can't. Haha. I walked. This was moments before Kenny Sia overtook us. In a futile attempt to rendezvous with him again, I took a short cut. Haha.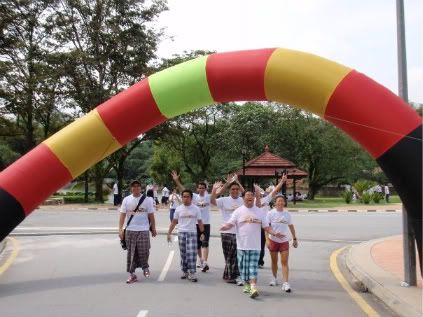 Selesai - for this year. Next year who knows. 50 people in sarong?



Post-run. Marilyn Monroe Moment.

We had a lot of fun. Altogether, 12 people wore sarong. It was a lot more than what I expected. Many many many thanks to the sarong wearers! Mucho gracias!!

We are reqruiting more next year!


p.s: Pictures were taken from facebook albums of Ali, Fairuz and May Senn.

p.p.s: I've been travelling to and fro KL - Batu Pahat for 6 consequtive weekends now. Those many hours sitting on uncomfortable Transnasional bus seats has taken its toll. I busted my back and can't move without feeling a dull discomfort on my lumbar. So I'm taking a break from travelling. To my friends in KL, I will see you again probably in mid-December.