Terry Fox Run is BACK!!!!
The annual Terry Fox Run for Cancer Research is back! This year it will take place on 2nd November 2008 (Sunday) at the Lake Gardens.


This year's Terry Fox Run t-shirt: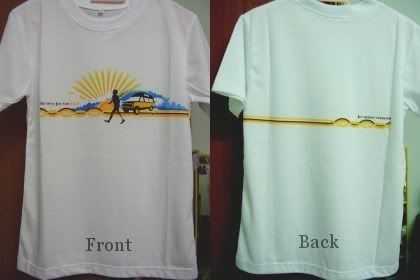 Thanks to Aoi for the picture. [I don't really know who she/he is, but all the photos on the internet are credited to this person]

2006 t-shirt was a bit too serious. 2007 t-shirt was plain ugly. 2008 t-shirt is simply awesome.

Please buy the t-shirts. They're priced at RM25 each. T-shirt purchases will be your contribution. Contributions will go to Cancer Research Initiatives Foundation (CARIF).

Click [here] for the event page on Facebook. You're free to extend the invitation. Click on 'Invite People to Come' located below the poster thumbnail and start inviting!



Purchase of t-shirts can be made at these locations:
Ms Chan Siew Wan / Ms Lee Siew Bee at the Canadian High Commission, 17th Floor, Menara Tan & Tan, Jln Tun Razak (6th October onwards)

Ms Yoon / Mr Peter Kang at the Cancer Research Initiatives Foundation (CARIF), 2nd Floor, Outpatient Centre, Subang Jaya Medical Centre (6th October onwards)

Ms Tila at the Foyer, Ground Floor, Menara Citibank, Jalan Ampang (12.00 to 2.00pm, 20th October until 24th October)

1 Utama Community Booth (25th & 26th October 2008)

At the Lake Garden on Run Day (2nd November 2008)
Take it from me. Terry Fox Run is the most enjoyable run in Malaysia's running calender.
I enjoyed the 2 previous runs I've been to. The vibrant atmosphere is something to experience. It's just simply awesome.


So remember!
2nd NOVEMBER, SUNDAY
THE LAKE GARDENS
SEE YOU THERE!!


Be there at 8am to soak up the atmosphere and ambik-ambik gambar.
Read more about the event here:

Disclaimer:
I am only disseminating information. In no way I earn benefit, direct or indirectly, from this other than getting to meet a lot of cool people at the run.