Michael Shoemaker
With the registration fee for Century Ride paid, I have no excuse left not to bike. So to iron out few of the setbacks, I sent my shoes for repair as the sole was already gaping.

I sent them to a cobbler in Great Eastern Mall, Jalan Ampang. Not so sure what it's called but it's on the P1 level and it's the only cobbler there.



Consistently pushing my bike when climbing steep hills (i.e dismount, turun basikal, tolak naik bukit la) has worn the carbon fiber sole out. You can see the wear clearly, marked by the red lines on the image on the right.



He decided to patch the thinning layer with a rubber sole and sew it up.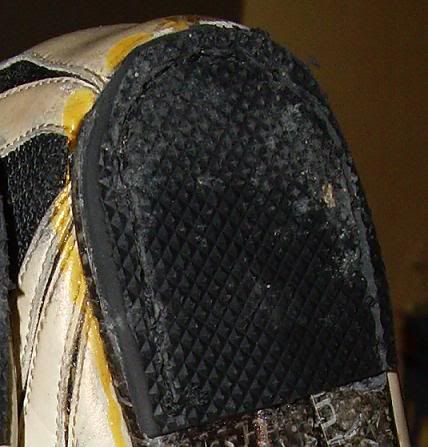 It's a pretty neat job, considering most cobbler don't dare drilling through a carbon fiber sole. The stitching is very tight.

He also stitched back the velcro pieces that are close to becoming useless.

Total repairs cost me RM25. Another shop in Leisure Mall can get it done for RM10 I'm told, but petrol doesn't come cheap these days.

p.s: I'm in dire need of a new pair of Shimano shoe cleats. Sapa ada jual, name me your price and aku datang beli kalau berpatutan.