Professional Doctors? How About Professional Patients!!??
Preface:





Electrocardiogram (ECG) is an investigation that allows physicians to 'visualize' the heart based on the direction the electrical impulse travel in the heart.

This is achieved by placing the ECG leads on the limbs and the chest. There are 6 chest leads and their locations on the chest look like this:




[End of Preface]


Last week I had the 'opportunity' to take an ECG from a patient. Normally doctors would simply say to any of the nurses "Kak, ECG bed ini ah." But us medical students don't get to speak to nurses that way. So we tell the student nurses instead (heheheh. This is how we pick up bad habits from our seniors). But the batch of student nurses in the ward that day was a new one. None knew how to do ECG. So it had to be yours truly lah.

I have to point out that this patient is different than the one depicted in the picture above. She is about 60 years old and weighs around 90kg. So a proper representation of her would be something like this: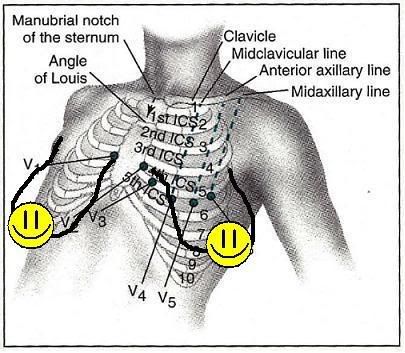 Don't act innocent lah.
(Photobucket disallowed the original picture. So here is a more viewer-friendly version)

A student nurse was there to chaperone me, but did nothing more than clipping the limb leads. I had to be the one who apply the chest leads on.

It was tricky. The left breast was really in the way. However, throughout the years of training, I've managed to keep my cool and maintain a striaght face. "Makcik, saya kena letak sensor pad ni kat bawah ye. Boleh ye Makcik." She agreed.

Leads 1, 2 and 3 was easy. 4, 5 and 6 were the difficult ones, and in ascending order. Clearly I was short-handed (pun inteded! WAAHAHAHAHA!). I had to alih the breast upwards a bit, and still the celah was still too deep. Leads 4 and 5 attached. I moved to the last and most difficult lead, lead 6.

This was very very tricky. In the end, I had to resort to just pushing the lead with my hand as deep as possible.

It was heavy, warm, and sticky (nak termuntah aku ingat balik benda nih). Finally the lead was in place. Just as I was about to move my hand away and thought that things were ok, this Makcik gave me a quick, discreet, naughty, smile. OH MY GOD!!! ARRGGHHH!!! Why????!!!!!!!

Quickly I pressed the buttons on the ECG machine and print the reading. I told the student nurse "You cabut semua balik cepat-cepat." I stashed the leads in the drawer and pushed the machine away. No thank you. No good bye.

No amount of chlorohexidine can wash the guilt stain I have on my hands. Tidaaaaaaaaaaaakkk!!!!!!!!!