Motivation
Bogged with boredom, I haven't been moving my bricks recently (nevermind if you don't get it. It's an IMU thing).

I turned to Rizal and asked him for a solution.

He told me to visualize a very expensive thing that I desire, and focus and the things I have to do to get it. Thus, if I don't do the things necessary, then the dream will be nothing more than what it is.

It wasn't difficult. In a matter of seconds, I thought of Ibanez JEM7VWH. One of the finest Ibanez guitar ever made.


The white, contoured body and slender neck of JEM are analogous to the curvaceous hip of a naked female and her long, dark hair. The silver vine inlay on the fretboard and the gold hardware are the jewelries that she wears.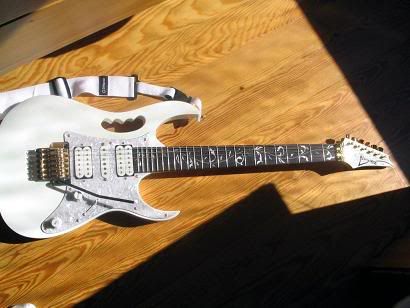 Click for a bigger picture.



This has to be the sexiest picture of the JEM. A picture tells a thousand words. This one tells me of a woman who wears nothing but her jewelries, and wears them so well. She is sunbathing on the room floor. No, she's not really sunbathing. She's teasing. I can almost listen to her saying,

"

Oh, Abang Bond. Jelinganmu sungguh nakal! Come cuddle with me in the jacuzzi.

"


Hey! I feel motivated already!!

On with the portfolio now!



p.s: I'm sorry I'm not able to cite this picture. I saved it from a website ages ago.