Terry Fox Run 2007
It was a tragic comedy. No. Not the run, but what happened that morning.

I had firmly decided that I was going to show up at Terry Fox Run, which made me took a trip back to KL from Batu Pahat. I only brought back my bike (packed in a carrying bag) and a small bag of clothes, just enough for 2 days (nothing I own is in KL. Practically, my parents have thrown me out of the house).

Come Sunday, when I woke up in the morning, my super-efficient domestic helper thought the pile of clothes on the table was meant for wash, so she washed EVERYTHING except for 2 pairs of underwear. Disaster brewing.

I got panic. The next natural thing to do was to look for some stow-away pants. None found. I tried putting on my dad's and brothers' pants. Apparently they don't make people my size anymore.

Bloody hell. I wasn't going to come up with more excuses. No matter what, I have to show up.

So I asked myself, 'What would Terry Fox do?'

Hell, Terry would've just covered himself with anything and go out running.

And the first thing that came to my mind - sarong.

Yes. I put on a bloody sarong and went to the run. I had my mother sent me to the Lake Gardens, and before I left the car, she said "Go out, walk away from the car as quickly as possible."



Gosh. If only I had a ringgit for every person who gave me the eye.

Within minutes I came across Stupe. Aaaahh. A familiar face who can actually help me record this event. So he took this photo for me:




Stupe was with his wife, Aileen and baby Ryan. I had to quickly make a move as I don't want to spoil Ryan, so I said to Stupe I better go 'buy the Terry Fox t-shirt so I don't feel out of place', which was an understatement of the year, really.



Baby Ryan disagrees with my fashion statement.

Ok, enough about me, let's talk about the run.

I wasn't early enough to catch the speech before there run, but I'm sure like last year, it was short, sweet and inspiring.
I am utterly pleased with the turn up. More locals participated in the run this year definitely. A big thank-you-very-much to everyone who came that morning. You have re-stored my faith in Malaysians.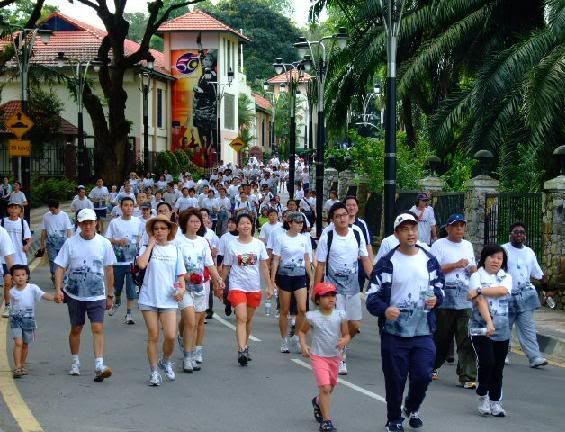 Malaysians!! ATTACK!!!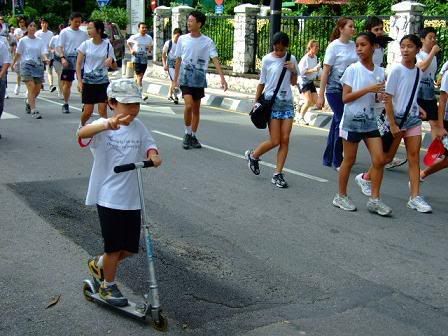 Cool kid cruising.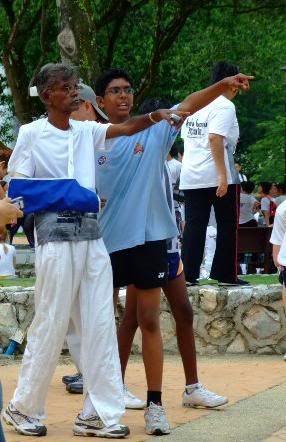 This uncle is the man! To those able-bodied people who were having a lie-in that morning, shame on you.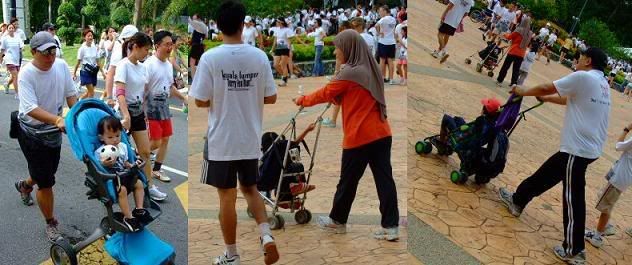 Start them young. Respect them parents. These children are on their first few steps to become runners!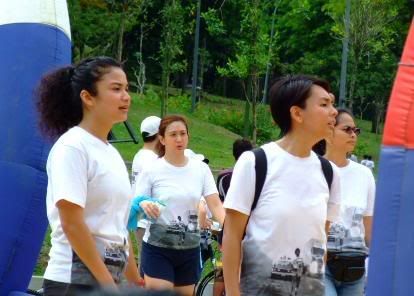 Celebrity sighting. 2 of the 3R. Tini and Rafidah.



Everytime Rafidah appears on TV, I'll go ga-ga-ga for her. If only I had something better to wear, I would've done the 'Hey, how are you doin' maneuver. Only God knows how heartbroken I was at that moment.


Unlike last year, there were more activities to do after the run.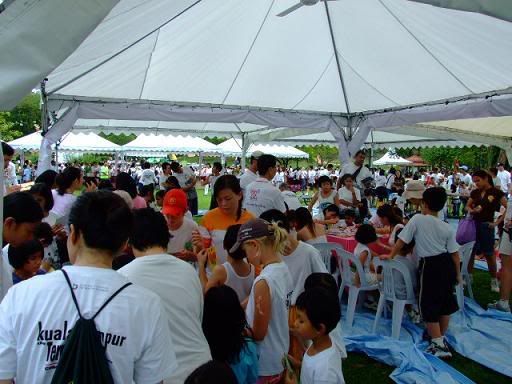 Kids were flocking the sand-art and face painting booth.



Highschoolers hung around the assembly area, gulping free mineral water and munching down free cream puff.



Parents were having fun with their children.



The DJ put on great music from the 80's. Thank God. No sternum-vibrating feng tao music.


Everyone had something to do. Which are all nice things, really. Except the fact that I can't make a clean exit with everyone around!

I spent most of the time either hiding behind an MPV nearby, or sitting on the curb with my bag covering my sarong.


Damn malu lah!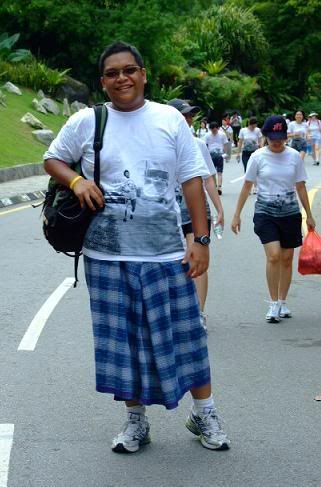 Yep, the t-shirt didn't blend me in with the crowd.

Terry Fox was probably looking down at me, slapping his forehead and went "This wasn't why I ran those marathons!"


Labels: Running