When The Dust Settles
God works in mysterious ways.

The visiting 'lecturer' turned out to be a doctor employed by the Ministry of Health as an MO in the hospital. He is working closely with IMU, as he was part of the uni a long time ago. Turns out he still has some student in him. He is very approachable. Just had to wait until things get warmed up first.

The reason I got bombarded the other day was beacuse I was giving out false information, which was dangerous. So he had to butt in. On his defence, I think his action was fair.

All is well now. Well, maybe not all. But who cares lah.


* * * * *


For the last 2 days, I've been getting the finish line flashback of stage 20 Tour de France. The final few seconds when Daniele Bennati gave out all he had to win the sprint.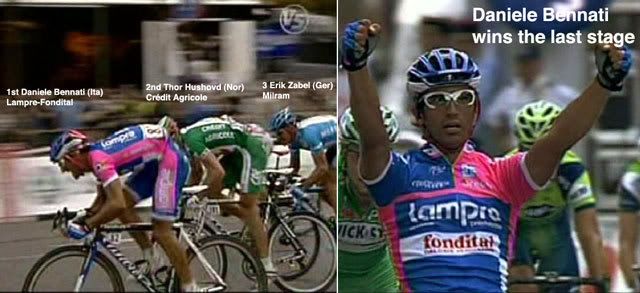 Source: www.steephill.tv
Tiba-tiba je terbayang. Tengah makan. Tengah baring. Tengah lepak tengok dinding.

Aduiii. Stressed-up sangat ke aku ni?