Biar Pacit Tayar, Jangan Pancit Semangat
This week alone, I've busted 2 tubes.
The first one happened when I was recce-ing for cycling route in Batu Pahat on Thursday evening. I hit a piece of metal lying on the road and the front tyre went 'Bssssssssttttttttttttt!!!!!!!' And I was 12km from home with no money in my pocket.
Thanks to Chee Yoong who drove all the way and picked me up. No thanks to the bypassers who did not even turn a concern eye when flagged. I hope a dumptruck rolls over your pet cat.
Second tube got punctured this afternoon. I went for my first proper 'long' ride after raya (OK la, it was only 48km. Long enough lah) at Ulu Langat with Ali.
We we're already on our way back, when Ali gave this motivational talk.
"Kayuh je. Maintain cadence. Sampai bukit je, berdiri, lean forward, kayuh. Nanti ko rasa best gila."
I was geared up.
Orait lah! Here we go!
That was when my rear tyre suddenly went 'Bssstt bssstt bssst bssstt bsssst!!' What an anti-climax.
As if it was planned, I stopped mere meters from a motorcycle repair shop. I was confused. Should I be mad, or should I be happy.
Arrghhh. Mana pulak penyodok tayar nihh.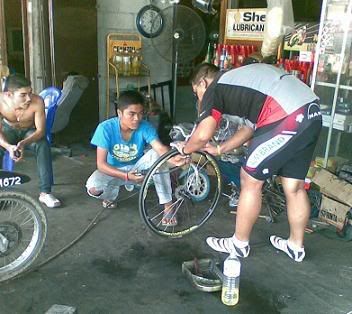 Brader Pomen: Eh, kecik benar tayar ni bang. Padan le pancit. Tengok le abang besar macam mana.
Aku: Senyap la ngko. Buat kerja tu.
Other pictures taken this morning:
OK (Orang Kuat) Ali.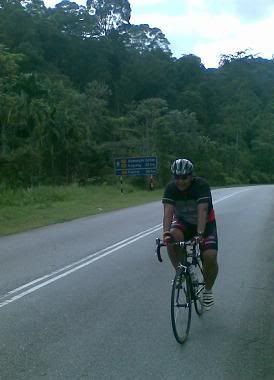 Two people. One camera. Yes. We stopped and took pictures of each other. Bila lagi kan?
Today was also the second time I rode with my 'Seluar Raya'. I think I will never get use to the feeling riding in a cycling bib. It's weird. I feel fragile, yet strong. No wonder all the superheroes wear tights.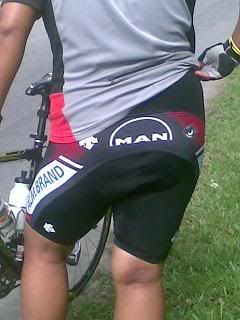 At least they got the name right. Hahaha.
The cycling bib is heavily padded. Now I can safely say that I sort of know how women feel every month. Respect.
Terry Fox Run is tomorrow people! See you there! 9am, Lake Gardens.
Labels: Cycling