She's Back!
Tok's recovery has been very dramatic. I wish all my patients are as strong as she is. Day 5 post operatively dah boleh balik rumah. Kalau masuk ward kat Sandakan, memang meet ward policy.
While recovering in the ward, she has been very compliant to treatment. Chest physio was done, she was fighting the pain to cough properly. Elderly people, after undergoing abdominal surgery, tend to get lung infection because the wound pain prevents them from breathing properly. Pain meds help, but it's the strong will that makes most of it.
The surgeon told her to eat a lot of protein and despite having a bad taste in the mouth, she took all the egg, chicken and fish bits. And when the surgeon ensured that the wound will hold if she walks, half an hour later, she's already doing it.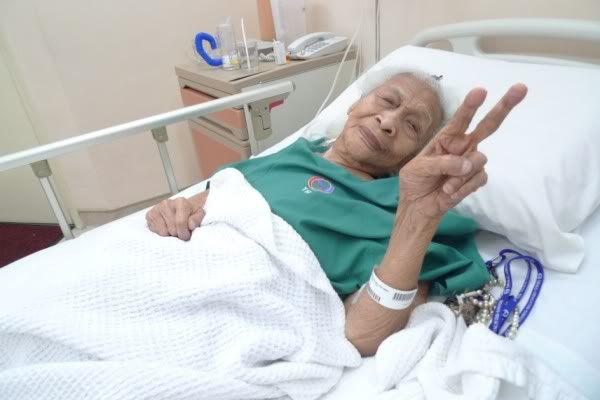 "Peace and love, bruv. I'm back in biznezzz. Syukur, Alhamdulillah. Now wherz de periuk? I need to make de dapur berasap again."
She really said that. Well, not really.