Batu Pahat
Two words: Cyclists-unfriendly. Wait a minute. That's one word.
When driving or cycling, there are 3 things that translate into safety.
1. Good roads
2. Good drivers
3. Good luck
Yes. Good luck indeed finding those three in Batu Pahat.
The roads surfaces in Batu Pahat are in good condition, except the part when it comes to road lines and markings. Almost all lines and markings have faded over the years of torture from Batu Pahat scorching hot sun. This made possible for 2-lane roads to be converted to 4-lane roads, easliy. People get to escape the blame. Take:
Driver 1: Woi!! Ngko ingat ni jalan BAPAK ngko punya?! Tengok lane la!!
Driver 2: Apa lane?! Ngko la buta!! Mangkok hayun!!! (Finger)
See. You'll never get caught.
Both of you will be right.
And drivers. Batu Pahat drivers, their balls are made of steel, man. I'm telling you, if Batu Pahat drivers play chicken with a lori hantu, the only kind of turn they'll be taking is a turn-on. Somehow they have this affinity towards the front end of cars. They get a hard on when they see the front bumper. Which is why you only see drivers here drive with only one hand on the steering wheel. The other hand is busy beating themselves down there.
And for more than too many times, you'll always find the car in front of you is driven by a 67-year-old Haji Leman Winonoto, 58-year-old Madam Chong or 74-year-old Mr. Velukarupaiyah whom all believe that speed limit signs are mockery to their age, so they tend to drive slower. Pffftt. Denial.
Here's a typical day on a Batu Pahat road.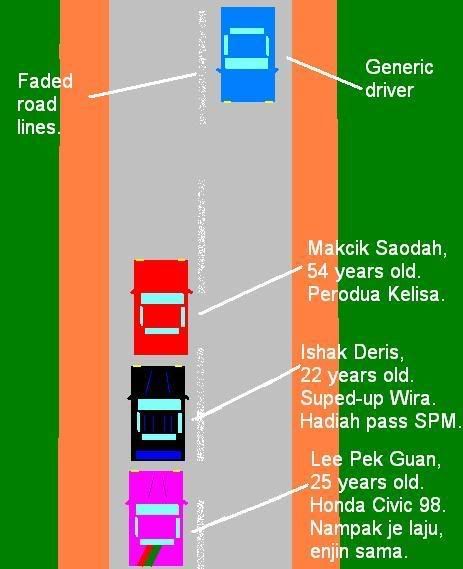 Guess what happens next.
Welcome to Batu Pahat.
My bike is now nothing more than a very expensive towel rack.
Labels: Places