I've Made It!! (Now with more pictures!)
I've made it through! Semester 9 exam is finally over and I'm officially in my final semester. Just one more sem to go, baby. Just 6 more months!
I'm having a whale of time. Speaking of whales, I feel just like one too. A beached whale if I may. 2 weeks of study break and 2 weeks of exam, with diet comprising of sunny-side up eggs, bread, rice, more eggs and fast food. I had so much fast food during that period, I had Domino's and A&W on the same day. But it's worth every calorie. I pretty much have no choice. Food is the ONLY thing enjoyable during exam season. And it's all good.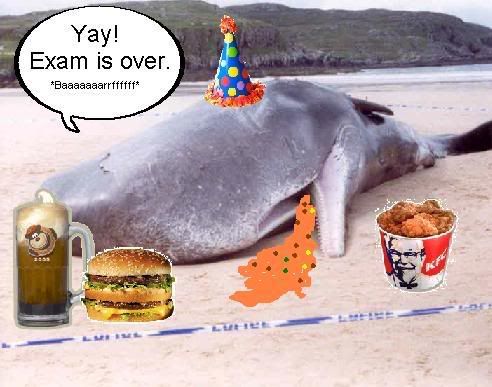 High on trans fatty acid.
I will be moving to Batu Pahat next week for semester 10 posting in Batu Pahat Hospital. Any local riders reading this post, please please do drop me a comment. I look forward to join any weekend group rides there. Aku kepingin mau kayuh pegi Tanjung Piai wooooo. Kalau tengok map, jalan macam best.
I would also like dedicate this moment to express my gratitude towards the members my study groups

. Yes, I have two study groups (I'm a bit kiasu ler). Words can't express how thankful I am having you guys around. To Jenn Yi, Sasha, Siew Lian, Chee Yoong, Ezran and Miha, Ainul, Aziah, Dina, Hady, Ezran (another kiasu bahger), you guys are the best. And I appreciate you guys tollerating my antiques of sleeping during studying, countless unauthorized kitchen breaks, being late and sometimes not showing up at all. I don't know how you guys do it, but if I were you, I'd kick myself out of the group long time ago. Thank you again.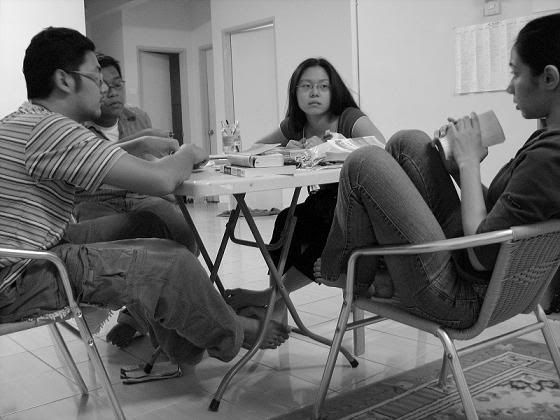 The Cincai-cincai Lah Group. L-R: Ezran, me, Jenn Yi and Sasha. Absent are Chee Yoong and Siew Lian (whom I believe is behind the lens).
Kumpulan Gagak Hitam. L-R: Dina, Aziah, Ezran, Miha, Ainul, Hady and me
And congratulations to the rest of the batch. We deserve this one week break!! OOOO~WAAAAHHOOOOO!!!!
Gambar cilok from here and here.
Labels: Meds