6 is a Beautiful Number
This is going to be short and simple. It's late and thinking of stringing words to make is sound nice is, well, tiring.
It's been 6 weeks since I embarked on my journey to self-improvement whereby I vehemently put my foot down and vow to pedantically bla bla bla bla... *simple words.... simple words...*
Anyway, it's week 6 and this is my progress so far.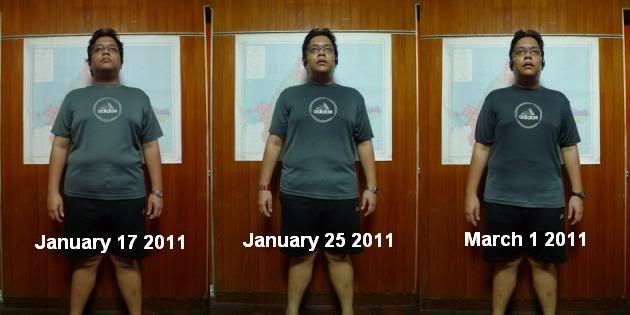 The tummy is getting smaller. Chest is also flatter. The hips don't lie, those are still big.
You should also guess by now that I'm a big fan of Adidas, and I don't have much running attire to go around.
And, yes, I have registered for Borneo International Marathon, signing up for 21km event. What have I done.
Training starts today. 60 days to go.
Oh by the way, IRON MAIDEN IN SINGAPORE WAS AWESOME!!!!!
SCREAM FOR ME, SINGAPORE!!!!!!!!!!! AAAARRRRHHHHH!!!!!!!!!!!!