Subang Jaya 10K Run 2006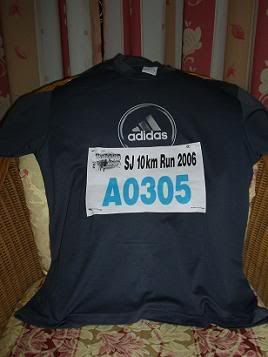 Port Dickson Half Marathon 2006 : DNF (Did not finish) Naik support van.
Putrajaya Half Marathon 2006 : DNF (Did not finish) Naik support van lagi.

Subang Jaya 10K 2006 : DF (Did finish)!!!!!!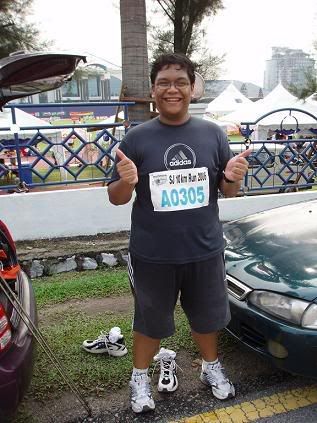 Muka puas hati. Placement nombor yang sempurna meng'cover' dada. Hehe.

It wasn't just a simple finish. For the first time, I wasn't last!!!! Hahahaha!! And I didn't stop or pause in the run!! That was an achievement. Third time's the charm. Yep. And demoting myself to 10K runs is a wise decision.

At the beginning of the race, I wasn't sure of what to expect. PD Half and Putrajaya Half was badly executed. I didn't train right, and I was aiming too far, too unreal. This time, I had to get my everything straight.



The Target



So few minutes before the run this time, I had a chat with myslef and properly weigh my abilities and put it through a serious thought. Heck, I wasn't sure of what to think, so I came up with the simplest aim any simpleton can come up with. It was a 10km race, so lets make it a minute per km. 100 minutes. That's 1 hour 40 minutes. Ah, belasah je. So that was my humble target, to put it in the words of Master Zailan, 'Janji Habis'.

I can't help it, but at the starting line, I was scanning the crowd, not to look for competitors, but I was looking the possible faces that would end up behind me (evil!!!). Hey, I kept my thoughts to myself (until now) so it isn't a crime. Plus, that actually kept me going.

Bang!! The race started pre-maturely. They promised 7:30 am, but it started at 7:27 am. Hmmm.. Malaysians being early? Tak kisah lah. But I was caught off guard. "Eh, mula dah? Ok, here goes nothing."

My pace was based on my heart rate. Didn't want to push too hard too soon, so I started really slow. Almost everyone overtook me. Sabar, beb, sabar. I tried enjoying the scenery. Subang Jaya is actually quite a nice town I have to say.



The Turning Point



Half way into the run things took turn to the better. My 'engine' was then warmed up to perfection and was itching to rev. The group ahead of me, which was previously stretched into a very long line, has started to bunch up, a sign that people are slowing down. Ahhh, chantek!

This was when I said to myself "Ko jangan nak mengada nak berenti lari. Kalau berenti, ko ni macam pondan potong ko**k". I kept my pace steady. Slowly, one by one, I started to overtake those who were ahead of me. But Malaysia is never short of kiasu drivers and runners. Ada la a group of 3 ni, everytime I overtook them, they would scramble ahead of me, then slowed down. Aku potong lagi, dia lari lagi pegi depan aku. Oooo, mau main Hare and Tortoise dengan aku ye. Aku up heart rate aku by 10 beats per minute, and keep up for 5 minutes. Aku potong sekali, never to see them again!! Hahahaha. How's that mofos. A sight of a fat guy overtaking you? Priceless.



The Finish



Everything was smooth sailing, until the final kilometer. Aku dah nak pengsan, my hands were numb, beads of cold sweats was pouring, and I didn't feel right. Then I remembered the video that Mary reccommended, Will Smith video on Key to Life: Running and Reading. "I will not quit when things get hard". Tahan, beb, tahan. Slowly but steadily, I was finally in the stadium. Hundreds around me had already finish the race, maybe I was the only one running. But I was determined to finish. 50 meters, 40 meters, 30, 20, 10, 5, 3, 2, 1 meter, and I finaly crossed it!!!! Sumpah, aku rasa macam nak mati, beb.

Coincidentally, at that very point I met Mary and Jaja. They were already on their way back. I yelled, "Mary!!!! I DIDN'T STOP!!!! I DIDN'T STOP!!!!!" Mary muka macam konpius. Ntah ntah she was thinking "Gilak apak ini budak". She then introduced me to Jaja (whom I met for the first time). It was a brief introduction pasal I had to go get myself bukcet loads of water.

After few cups of water, my senses were slowly coming back. Then I realized, when I was crossing the finish line, there were no cheers, the were no ribbons like you see in movies, heck, no one was paying attention to me. But it wasn't about all those. It was about the inner struggle that kept me going, that kept my wanting to cross the finish line. And I was happy.

My time for the run? Well, I did better than my target, by 56 seconds!!!! 1 hour 39 mins 14 secs. Hahaha. Bapak slow macam gajah. Tapi takpe. I DIDN'T STOP!!!

So I'm keeping 10K events as MY events. Half marathon? Well, until I can set a 10K within 1 hour 10 mins, that has to wait. But why bother now when I'm having so much fun!! WOOOOOTTT!!!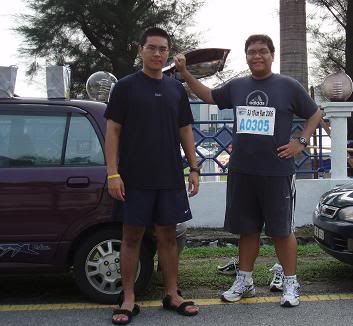 This is Ali, my buddy since high school. He broke his running competition virginity today with a time of 62 mins!!! Hanjing power dia nih. About 3 months ago he had a right knee surgery to repair a torn ACL. Tapi dah power macam power rangers.

Labels: Race Report, Running