Putrajaya International Marathon 2006


It's the Putrajaya International Marathon 2006, and I ran in the half marathon event. 21 pain in the ass kilometers (actually I only ran 12 km. DNFed because I injured my ankle). This was my second half marathon event, and my second DNF. Haha. Both due to the same reason. I had fun anyway. Here was what happened that day.

Woke up at 5.10am and quickly got ready. I got everything with me this time, except I forgot to leave something behind. Didn't have time for my morning dump, so I had to run with the half kilo extra weight. Haha. While driving, I took my homemade PowerBar, something I call the PowerPack (I shall share this in the future). Psyched myself up with some rock tune from The Who, Joe Satriani, Steve Vai and Richie Kotzen.

When I arrived, the marathon event had just started. I parked my car and quickly took my wudhu' and performed Subuh prayer at the car park, next to my car (later I found out the organizers actually prepared a decent surau. Not bad.). I changed, and met Chee Yoong near the starting point. Did some stretching and before I knew it, BOOM! We're off.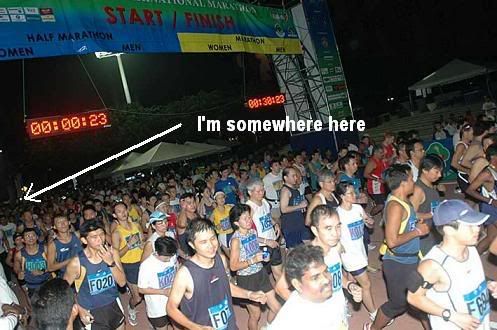 One km into the race, my right ankle starts to complain. Adoi la. So I stopped and loosened the lace, which helped. Ahhh. Best. It worked. I didn't aim high. Cukup la running at 7kmph. Everything was ok. Until it was at about the 10th km, the ankle complained again. I stopped and massged my right foot. No good. So I limped the next 2 km. Managed to come across one dude. He said 'Bang, jangan paksa diri, bang.' Yeah right. I kept on limping. At some point, I was hopping on one foot. Sampai la kat the 12th km. Ok la. I give up. Tak sanggup dah.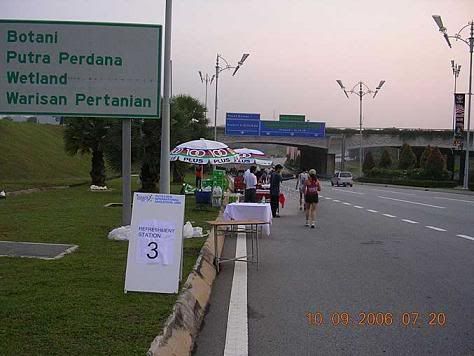 This was where I stopped and waited for the support van. It came and there were already 2 girls in the van. The paramedic had to take both of my numbers off, he said for technical reasons, and promised to give them back when everything is done. I never saw them again. Chit podah. Takde souvenir aku kali ni.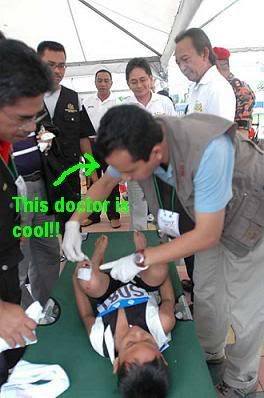 I was brought to the medical bay. First, a lady approached me. From the trembling hands, I think she's a medical student. Then another doctor (pictured) came to check my foot. He's one cool dude. He said:

Cool Doctor: Sprained ke cramped?
Me: Sparined.
Cool Doctor: Hmmm (examining my right foot). You've got flat foot.
Me: Yeah, I know.
Cool Doctor: You know what to do, right?
Me: Rest, ice and painkillers?
Cool Doctor: Exactly (handing me some painkillers). Take one now and another one later tonight. You should be ok.

Haha. Why do I think he's cool? Because he understands runners' ego and respects it. Hahaha. No fuss, no kerek-kerek. In return, I respected him. Allah bless him.

At the recovery area, I met Chee Yoong. He finished the race at 2 hours 25 minutes. A huge blister on his left foot was staring at my face. Well worth it because now he's got something to brag about.

I was cooling my right foot in the ice bath when an African dude (very obvious from the accent) who was sitting opposite me began a convesation. He asked:
Kunta Kinte: Iz eet yor ankol?
Me: Excuse me?
Kunta: Yor ankol. Yor foot. Da one yor cooling down. Iz eet yor ankol that's painfool?
Me: Oh yeah. My ankle. I sprained it.
He noded, then dipped his socks in the ice bath and started wiping his legs to cool them down. Then he wiped one time too high, exposing his schtincker. SHIT!!!!!!!!!!!!! Why must I witness it!!!!!!! Arggghh!!! I fled the scene quickly. Sicko.
All in all, the organizers did a very good job. Hell, they better do, since the fees was set at RM30. A lot of booth were set up that gave a lot of freebies. And with details like setting up a surau and all, they really did their homework well.
My aim in the future? Well, I'm demoting myself from 21k race events. From now on until I'm fit enough, I'm only going to run in 10k events. At least I get to finish it and get a medal or certificate. That's a lot better than just a piece of cloth with numbers.
*Pictures are courtesy of www.pacesetters.com.my
Labels: Race Report, Running