Losing Isn't So Bad
I was about to sleep when I suddenly realised I've not seen how an Ironman medal look like (how did I come to this, I don't know). So I went online to get a photo of one. Then I found something on ironman.com that caught my attention.

NB: I've vowed not to practice cut-and-paste ala plaigarism, but this is too valuable.

Here goes:


He's the biggest loser competing at Ford Ironman Florida tomorrow, and he couldn't be happier. Since January 1st of this year, Adam Tice has lost 140.6 pounds, which netted him a Tanita Scale as the race's "biggest loser" last night. While winning the scale was no doubt a nice bonus, the fact that Tice is here to compete at all is a tribute to his incredible drive and determination.

"I registered the day after last year's race, but I didn't want to stop eating well through the holidays," he said at last night's Fig Newtons Welcome Dinner here in Panama City Beach. Don't mistake his desire to keep eating what he wanted for those extra two months as a lack of determination – once January 1st came, he started on a strict program that revolved around the magic number of 140.6. Tice figured he needed to lose the equivalent of the Ironman race distance (140.6 miles) in weight to get ready for the Ironman. He wasn't going to repeat the ordeal he went through for his first triathlon event.
Determined to "test his athletic limits," he did that first race, the Escape from Alcatraz, weighing a not-so-svelte 340 pounds. As a joke, he shaved all his body hair, including his head, to gain a few seconds. Unfortunately, it wasn't quite enough to make him particularly competitive.
"I was the last official finisher of the race by an hour," he said.
Weighing 362.2 pounds on New Years day of this year, Tice has achieved his goal. He's now down to 221 pounds, and looks more than ready to have Mike Reilly pronounce him an Ironman tomorrow evening.
The 36-year-old from Parker, Colorado, was never athletic growing up. A "big guy" all his life the closest he got to a competitive situation was playing baritone in the high school band.
Then, a few years ago, Tice joined a new company. Everyday at lunch he would see one of his co-workers, a 5' 1" tiny triathlete "fuel" herself rather than eat what everyone else did. She encouraged him to try a triathlon. Tice went for the big challenge all at once – he tried to get into the Ford Ironman World Championship through the lottery a couple of times, but didn't get picked. Taking destiny into his own hands, he signed up for Ford Ironman Florida last year.
"I like the idea of the flat course here in Florida," he said. "In San Francisco I ended up having to push my bike up three of the hills."
How obsessed has this guy been about the number 140.6? In early January his training regimen consisted of about 30 minute workouts. He found that he got the best results by going doing interval training, interspersing five minute intervals with five minutes going easy. He gradually built up to an hour and 40 minutes. Then he worked his way up to 140 minutes of training at a time.
On top of all the training, Tice moved the decimal over to the right and made sure that he never ate more than 1406 calories a day.
The end result? A fit looking Adam Tice is here in Florida ready to take on his first Ironman.
Good luck, Adam!
And here are interval pictures of Adam when he was doing his 140.6 program.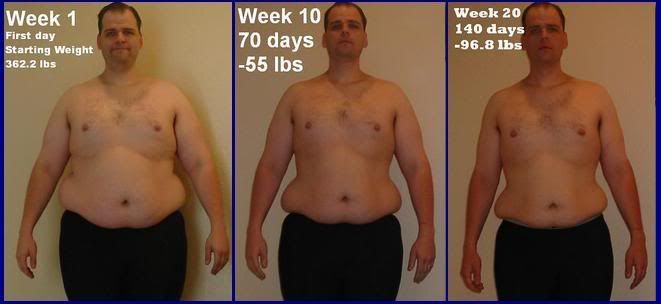 This guy is consistent!!



Holy tuna fish!! You sure you hadn't had a lipo done, Adam?

Utter unbelievable. Adam Tice, you are one determined, consistent, stubborn jackass. I salute you.

I'm playing with the idea of having it a go at Ironman Langkawi 2008. Hmmm... Sombody please tell me I'm not having delusions.
Labels: People